LUXURY and BOUTIQUE HOTEL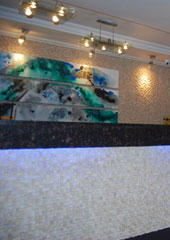 Polokwane Royal, an up coming hotel recently joined the sky line of Polokwane. The "Royal" consists of 50 comfortable, elegantly furnished rooms to suit every guests need (34 Deluxe Rooms with 2 double beds in each, 14 Executive rooms with a King size bed, 2 luxurious Suites all with a King size beds).
The Conference facilities are exceptional, suitable for conferences varying from 5 to 350 people, each of the 4 rooms are equipped with state of the art audio visual media. Wedding and Banqueting functions can also be catered for.
A small swimming pool is situated in a courtyard to the rear of the building. An ideal private pool to cool off on those hot sultry days that do occur in Polokwane. The Royal Restaurant is situated on the premises. Early risers will be welcomed for Breakfast from 06hr30, Lunch, a la Carte Dinner are also served daily.